Quickly and easily tone and strengthen arms,
shoulders, upper body and core
Buy Now
VIDEOS
GETTING STARTED
EXERCISE GUIDES
Watch in Your Language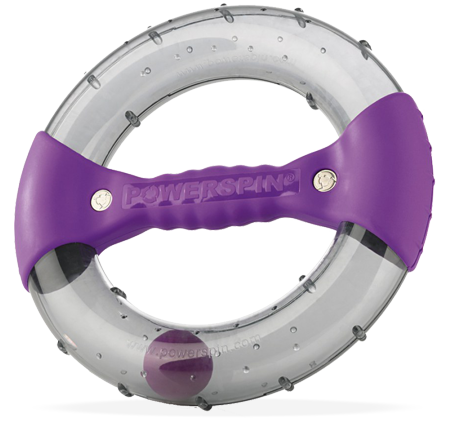 Powerful Isometric Resistance
Centrifugal forces
Harnessing the power of nature
Firm, progressive rotation of this centrifugal exerciser causes the weighted steel ball to spin inside the infinity tube at up to 10 rotations per second, generating a unique, natural force which combines with correct hand and arm movements, to deliver very precise, powerful exercises – exercises which are proven to tone and strengthen arms, shoulders, upper body and core.
Reap the rewards
Non-impact, high-gain, fun exercise
A little practice is required to develop a smooth spinning motion and it may take longer for your less dominant arm to 'learn', but once you have mastered the technique, you'll enjoy quick, energising workouts in just a few minutes. And while it will push your muscles hard, spinning really is fun!
Tone or build muscle
Light or intense, short or long
The faster and longer you spin, the more intense the exercise experience. Medium speed and short duration for firming and toning and fast speed and long duration to rapidly build muscle. You'll feel a difference with as little as 6 minutes spinning per day, just 3 days a week.
Superb build quality
Engineered to perform. Built to last.
Powerspin® is designed and built to withstand heavy repeated use and any knocks and drops that come with vigorous exercising and workouts. The weighted steel ball has a smooth rubber coating to increase resistance and minimise noise during spinning. A carefully moulded handle maximises user comfort and grip.
Targeted exercises
Vary exercises to target different areas
There are 3 main Powerspin® exercises, all of which have been specially developed to isolate and work on specific muscle groups – Shoulder & Elbow, Shoulder and Triceps.
Specifications
Weight
At just 860g and a diameter of 27.5cm, Powerspin® is lightweight and compact enough to slip into your backpack or gym bag
What's included
1x Powerspin®
2 x free exercise DVDs – 6 minute & 10 minute workouts with trainer Jo Gathercole
Warranty
Purchase directly from our website and your Powerspin® is covered by an unconditional lifetime warranty.*
Care
If required, you may clean the exterior of your Powerspin® with a damp cloth, no further maintenance is required.
Materials
Infinity Tube: Lightweight, robust, injection moulded plastic.
Ball: Precisely machined steel ball, covered with a smooth and tough rubber coating.
Handle: Polyurethane for maximum grip.