A dynamic force in your hand
"This little machine is the most remarkable, enjoyable, useful and effective object I have ever laid my hands on, bar none, it's absolutely outstanding" 5-stars

Buy Now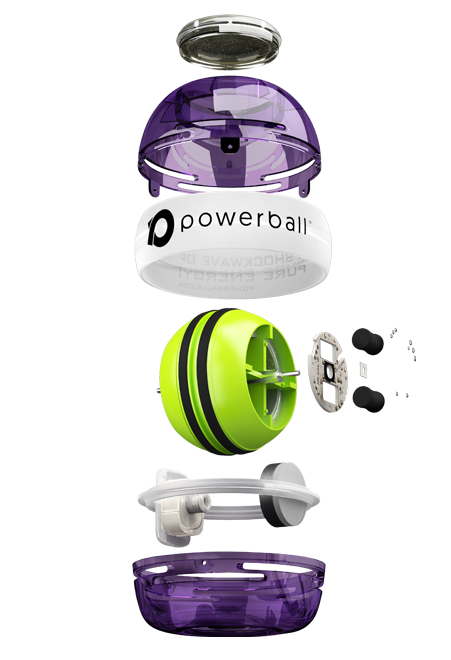 Precise, handheld gyro
Ultra-Precise Rotors
Progressive, smooth...it's alive inside
A high performance road car's engine might spin up to 9,000 revolutions per minute while a Formula 1 engine reaches 18,000rpm. The Ultra-Precise Rotor in Powerball® is so finely balanced however, that it will spin in excess of 20,000rpm with zero vibration (the current world record is 22,011rpm) making it probably the fastest human powered device on the planet and also one of the most powerful.
More Speed. More Power.
The power is now in your hands
The faster you spin the rotor engine, the more resistance it creates inside the shell – progressive, powerful resistance channeling directly your fingers, hands and arms. Choose slow speeds for a soothing, therapeutic force or spin fast for a powerful muscle building resistance; Powerball® offers both non-impact rehabilitation or intense strengthening, the decision is always yours to make.
Autostart™ Option
Just pick up and spin
Our latest models are fitted with unique, self starting rotors to fully maximise your comfort and enjoyment of Powerball®. Just wind back the rotor three full turns and release for an instant, fuss-free start every time and everywhere. No batteries or motor required. It's that easy.
Superb Build Quality
Engineered to perform. Built to last.
The patented shell of your Powerball® is designed and built to withstand heavy, repeated use plus the associated knocks & drops that sometimes come with exercising and workouts. We're so confident in the build quality of our products that we offer an unconditional lifetime warranty when you buy direct from the Powerballs.com website.
Digital Display
Track your speed & time
Working out successfully requires monitoring and recording progress. With the built in Digital Speed Sensor, you can see what your peak spin speed is and strive to continually better and improve it, as well as total accumulated revolutions, real-time revolutions and accumulated revs within 30, 60 and 90 second intervals.
Ultra-Grip™ Silicone Band
Spin with comfort
With the enormous force a Powerball generates at high speeds it can be a challenge to maintain to full, firm grip.  The Ultra-Grip™  silicone band ensures you maintain full, comfortable contact with the ball even at high speeds. Helping you to get maximum return from your exercise.
Specifications
Weight
From the lightest at 250g / 8.81oz to the heaviest at 358g / 12.62oz
What's Included
1 x Powerball®
2 x Starting Cords (280hz Classic model only)
1 x Instruction booklet
Care & Maintenance
Powerball® should be used and stored in a dry, dust free environment. We recommend periodically wiping down the body shell and grip band of your Powerball® with a damp cloth as this will improve overall grip during use.
Powerball® can be opened and cleaned if required – consult our 'How To' FAQs for details. Never oil Powerball's internal components as a single drop of oil applied to any internal part is sufficient to destroy the resistance which occurs between the moving parts inside the body shell – and the ball will no longer function.
Always keep a firm grip on Powerball® as you spin to ensure it remains 'out of the box' smooth for many years of operation.
Digital Display Monitor your spin performance and strength gains with the built in digital display and speed counter.
Materials
688 Range: High impact polycarbonate body shell.  Zinc / ABS rotor.
588 Chrome: Polished stainless steel body shell. Solid zinc (heavyweight) rotor.
588 Gold: Polished stainless steel body shell. High speed (lightweight) milled aluminium rotor.
Ultra-Grip Silicone Band: Tactile to hold at any speed, allows greater control.
Lifetime Warranty
Each Powerball® is carefully hand built from wear resistant materials of the highest quality to help ensure many years of ownership satisfaction. In fact, we are so confident in this premium quality that each Powerball® is supplied with a lifetime money back guarantee,  lifetime repair or replace warranty and a lifetime free support helpline.
Not only that, each is supplied with a 100,000,000 revolution guarantee which ensures it will help keep your fingers, hands, wrists and arms in perfect condition for quite literally a lifetime. (Warranty applicable to products purchased through this website only)