Build Massive grip & wrist strength with Powerball
Wrist strengthening the Powerball way…
If you are looking to build wrist & grip strength then Powerball is a must have. Create wrists of steel through isometric strengthening with Powerball. The Powerball gyroscope weighs only as little as 260-500 grams but can pack a punch of upwards of 60+ pounds of inertial resistance.
Why is Powerball so effective in wrist Strengthening?
Climbers trust it, arm wrestlers swear by it, what makes Powerball unique? Powerball exercises the arm in a way that simply isn't possible with regular isotonic (free-weight) exercise training, engaging a much higher percentage of muscle fibers in a far shorter time frame.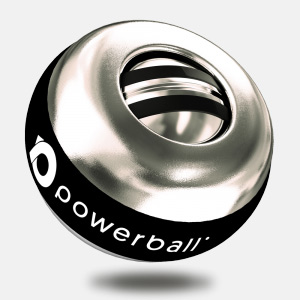 Build Powerful Wrists And Grip
For all the sports that rely on strong wrists and grip strength, there is nothing on the planet that builds it faster – Powerball helps develop muscle power & endurance quickly and efficiently, allowing you train harder, cycle further and climb higher.
Build Finger Strength & Dexterity
Finger grip strength comes directly from the flexor & extensor muscles in the forearm. Slowly spinning Powerball while gripping the sphere only with the fingertips will rapidly build [massive] grip strength, creating strong, nimble & highly dexterous fingers in the process.
Track your Strength & Endurance Gains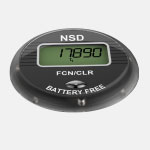 With Powerball's LCD speed meter you can track your strength and endurance gains. This will allow you to test and push yourself getting the maximum benefit from your training.
why Powerball?
Build wrist & grip strength
Strengthen hands, fingers & Forearms
Train at Work, home or on the go
Perfect for warming up and down
Rehab from sports injuries
Prevent repetitive strain injuries
Non-impact – Isometric resistance exercise
Physio strengthening exercises
Physio strength programmes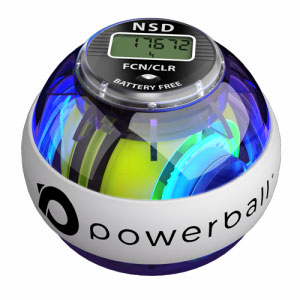 Physio Approved. Customer Tested.
Approved by physios and sports professionals
1000's of five-star reviews
Easy & Fun to use
Over 4 million sold worldwide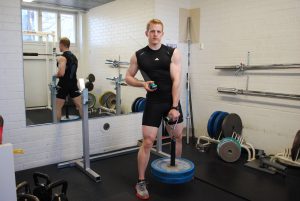 Choose the powerful, handheld gyroscopic hand exerciser that's right for you.