Preventing work related upper limb disorders
WMSDs – Work related musculoskeletal disorders.                 WRULDs – Work related upper limb disorders.
What are WMSDs? 
Two slightly ominous sounding terms describing ongoing problems in the muscles, tendons and nerves as a result of repeating tasks over and over during the work day (overuse & RSI related) often with poor posture and resulting in arm/wrist pain, numbness, tingling and discomfort. Occupations especially at risk are; computer operators; assembly-workers; carpenters; gardeners; plumbers; writers; taxi-drivers; mechanics.
How Powerball helps prevent and cure WMSDs… 
Following Powerball's non-impact resistance programme daily helps to strengthen up, loosen out and lengthen tight muscle fiber & fascia in the arms, taking pressure off connecting tendons at the elbow and wrist joints (two main areas of pain and discomfort in the limb). Range of motion increases, stiffness and inflammation diminishes – relief is immediate and ongoing.
Select
Equipment
Choose the powerful, handheld gyroscopic hand exerciser that's right for you.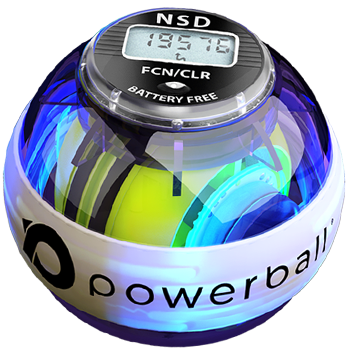 Watch
Exercises
Practice these short, physio-designed rehabilitation and strengthening exercises.