Tennis Strength Training - Build Power & Prevent Injury
Tennis Strength Training: Powerball is a trusted aid to build a powerful tennis stroke and keep a tennis player injury free from fingertip to shoulder.
Tennis requires powerful wrists & forearms capable of enduring the large forces generated during a game. Wind back for a serve and power builds in the legs; works up through the core; into the shoulders; down the arms; through the forearms; exploding in the wrists as racket makes contact with the ball. The muscles generating all this power are flexible, but the tendons attaching those muscles to the bone (particularly at the elbow & wrist) are not and tear easily (RSI) if not properly conditioned and maintained.
Physio Designed Strength Exercises
Using a Powerball daily for as little as 3 minutes will build strength from fingertip to Shoulder. For best results use Powerball's physio designed non-impact resistance programme, which performed daily, conditions both the forearm muscles (flexor/extensor) & connecting tendons quickly and efficiently, keeping them strong, flexible and resistant to tearing and inflammation; Powerball keeps you in the game. See videos on this page or full list under the videos tab.
Why Powerball…
Powerball builds endurance and strength in the muscles so that a Tennis player will be able to go for longer without feeling fatigue in the arms. It's used and trusted by tennis players around the world both for strength building and rehabilitation purposes. If you're serious about your tennis, try Powerball – it will give your game an edge with our unique tennis strength training programmes.
Tennis Testimonial
See what Frans Beckengret, Head Coach at Rutgers Tennis Academy had to say about Powerball at the bottom of the page.
Select
Equipment
Choose the powerful, handheld gyroscopic hand exerciser that's right for you.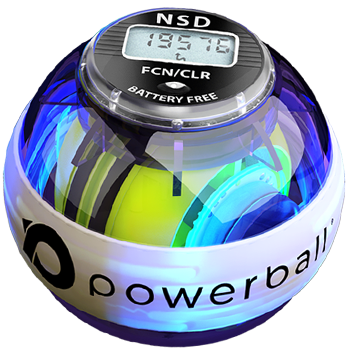 Watch
Exercises
Practice these short, physio-designed rehabilitation and strengthening exercises.