Effective treatment & strengthening for Tennis Elbow / Lateral Epicondylitis
Tennis Elbow (Lateral epicondylitis) is an overuse injury affecting the tendon which joins the forearm extensor muscles to the Lateral Epicondyle (the bone on the outside of the elbow joint). Brought on by repetitive, vigorous use of the elbow or trauma from a direct blow, it presents as pain and tenderness beginning on the outer part of the joint and traveling down the forearm.
The tennis ball sized Powerball gyroscope, is a hollow sphere which encases an interior rotor on an axis. When the interior rotor is accelerated through turning your wrist this creates a centrifugal force that works against the user. This force increases the faster the rotor is spinning or the harder the person is working. Powerball increases muscular control and blood flow aiding rehabilitation and strengthening the arm muscles.
Daily use of Powerball will give instant relief from Tennis Elbow. For Tennis Elbow Powerball also has a physio designed soothing, non-impact resistance treatment programme, which used daily helps reduce stiffness and increase flexibility in the elbow and wrist areas. Additionally, Powerball's rhythmic action warms up, lubricates and repairs the tendon by enhancing synovial fluid production and increasing blood flow through any scar tissue which may have already formed in the area – long lasting relief from Tennis Elbow is immediate.
Powerball has 1000's of five star reviews online, see what Michael Cutler had to say about how Powerball cured his Tennis Elbow at the product at the bottom of the page.
Select
Equipment
Choose the powerful, handheld gyroscopic hand exerciser that's right for you.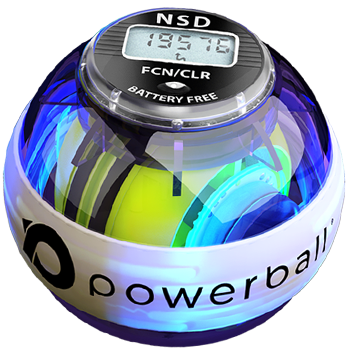 Watch
Exercises
Practice these short, physio-designed rehabilitation and strengthening exercises.