Swimming Strength Training - Build Power and Prevent Injury
Swimming strength training with Powerball & Powerspin
Swimming places significant stress and strain on the shoulders. Even with good upper body strength, flexibility and endurance, swimmers remain exceptionally prone to injuries in this area as a result of overuse and/or incorrect technique (swimmer's shoulder). Additionally, over-extension of the shoulder occurs in both the pull through and recovery phases of the stroke, with resulting muscular imbalance and weakness leading to multidirectional shoulder instability (too much movement in the joint).
How Powerball and Powerspin Help
Both Powerball and Powerspin's non-impact resistance programmes, performed daily, efficiently strengthen the rotator cuff, helping stabilise the shoulder joint and prevent muscle, ligament or tendon tearing – this is particularly beneficial in the pull-through phase of the stroke where resistance is always highest – helping the swimmer develop considerably more power.
Physio Designed Exercises
Powerball and Powerspin can improve muscle endurance from fingertip to shoulder with physio designed exercises for every area. Used by professional climbers for decades see how Powerball can give you the edge.
Select
Equipment
Choose the powerful, handheld gyroscopic hand exerciser that's right for you.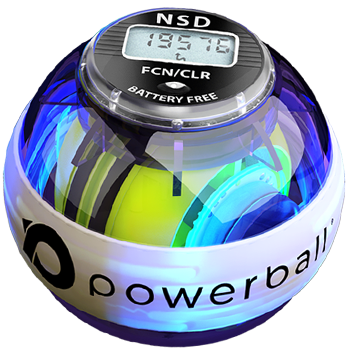 Watch
Exercises
Practice these short, physio-designed rehabilitation and strengthening exercises.