Rehabilitation & strengthening of the Shoulder
How Powerball Helps Shoulder Rehab?
Both Powerball's & Powerspin's non-impact resistance programmes, performed daily, enhance blood circulation to reduce inflammation while significantly strengthening the rotator cuff and shoulder blade muscles, improving stability of the shoulder and enhancing smooth movement of the joint. Powerball & Powerspin exercise the Shoulder Extensors, Abductors, Flexors  and Shoulder External Rotators in a non impact and highly efficient way which will cut rehab times dramatically and build strength quickly (See videos and full rehab programmes on this page). Traditional exercise is associated with weight whereby Powerballs is Isometric resistance which is perfect for rehabilitation.
Testimonials
Take the monotony about of rehab with Powerball and find out why our products have received thousands of 5-star reviews online. See some of our customer's comments in relation to shoulder rehabilitation at the bottom of the page.
Reasons for Shoulder Pain?
The shoulder is a highly complex joint that's particularly susceptible to injury. Large range of movement in comparison to relatively small joint surfaces leaves the shoulder dependant on a complex group of strong muscles, tendons and ligaments (rotator cuff) to maintain stability and prevent it moving/sliding around in the socket. However, injury and/or overuse during work or sport can lead to stretching & tearing of these ligaments, rendering them too loose to keep the shoulder in position and making it unstable – leading to irritation and pain, even during normal activities.
Select
Equipment
Choose the powerful, handheld gyroscopic hand exerciser that's right for you.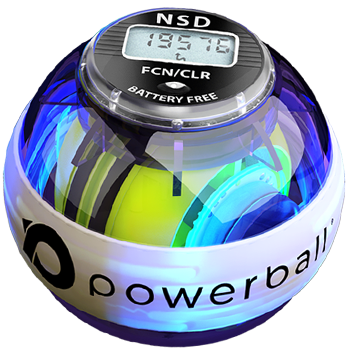 Watch
Exercises
Practice these short, physio-designed rehabilitation and strengthening exercises.