Preventing heavy work related injury & RSI
Heavy manual labour repetitive strain injury is a common occurrence.
What Causes Repetitive Strain Injuries
Mechanics tightening wrenches from awkward positions; assembly-line operators repeating identical tasks over and over; weight lifters targeting the same muscle; construction workers…fishermen…farmers – many jobs result in daily overuse of body parts leading to micro-tearing in the muscles, ligaments, tendons and nerves. Cumulative tearing over time leads to inflammation in the soft tissue – scar tissue forms, blood flow reduces and stiffness with restricted joint movement brings pain and discomfort in the wrists and arms.
How Powerball aids RSI's
Using your Powerball for as little as 3 minutes daily will greatly reduce RSI and leave users healthy and strong from fingertip to shoulder. Powerball has also a physio designed non-impact resistance programme, which performed daily, helps prevent such soft tissue inflammation by increasing strength and flexibility in the muscles & joints through non-impact resistance; a 2-minute spin significantly enhances blood flow and synovial fluid production right throughout the arm & wrist and builds endurance to help sustain ongoing work activities.
Testimonials
Powerball has 1000's of online five-star reviews and is recommend by physios throughout the world, fend off work related RSI with Powerball.
Select
Equipment
Choose the powerful, handheld gyroscopic hand exerciser that's right for you.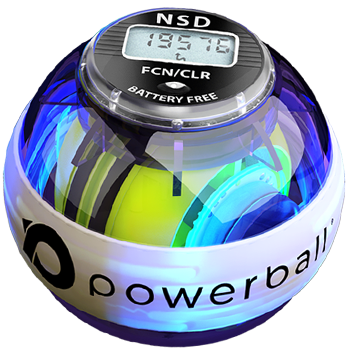 Watch
Exercises
Practice these short, physio-designed rehabilitation and strengthening exercises.