Preventing heavy work related injury & RSI
Mechanics tightening wrenches from awkward positions; assembly-line operators repeating identical tasks over and over; weight lifters targeting the same muscle; construction workers…fishermen…farmers – many jobs result in daily overuse of body parts leading to micro-tearing in the muscles, ligaments, tendons and nerves. Cumulative tearing over time leads to inflammation in the soft tissue – scar tissue forms, blood flow reduces and stiffness with restricted joint movement brings pain and discomfort in the wrists and arms.
Powerball's non-impact resistance programme, performed daily, helps prevent such soft tissue inflammation by increasing strength and flexibility in the muscles & joints through non-impact resistance; a 2-minute spin significantly enhances blood flow and synovial fluid production right throughout the arm & wrist and builds endurance to help sustain ongoing work activities.
Select
Equipment
Choose the powerful, handheld gyroscopic hand exerciser that's right for you.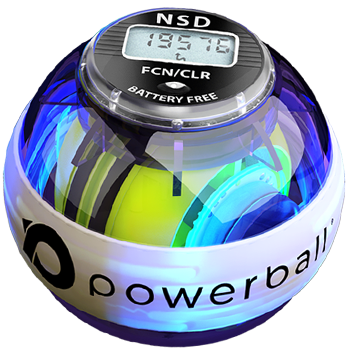 Watch
Exercises
Practice these short, physio-designed rehabilitation and strengthening exercises.