Build Cycling Strength & Endurance
Stay healthy & build grip wrist & arm strength
Whether you are suffering from repetitive strain injuries from cycling like handlebar palsy or looking to build grip, wrist and arm strength endurance to up your cycling game, Powerball has you covered. Find out why over 4 million people worldwide have benefited from Powerball.
Grip, Wrist & Arm Strength
Powerball is the perfect training aid for developing massive grip, wrist and forearm strength. The isometric exercise from Powerball builds muscle power & endurance quickly. You can train on the go, in work or at home. For the best results, you can also follow our physio designed strength building exercises and programmes.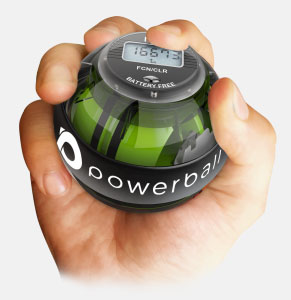 Handlebar Palsy? 
Handlebar Palsy also is known as Cyclists Palsy (ulnar neuropathy) is perhaps the most common cycling-related injury. Riding an improperly adjusted bike for long periods with the wrists compressed at an angle – or shock and vibration transmitted from the handlebars while riding across uneven terrain – causes inflammation of the ulnar nerve running down the forearm into the wrist, bringing numbness, tingling, and pain, usually in the elbow, outer forearm, hands or fingers.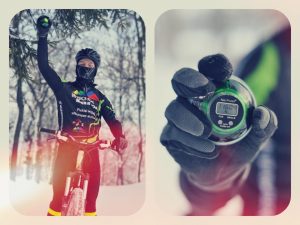 How does Powerball cure Handlebar Palsy? 
Isometric exercise with Powerball brings rapid relief to handlebar palsy. Powerball helps to significantly strengthen the forearm flexors & extensors which are the two main muscles in the lower arm. This gives mobility and increases the range of motion at the wrist joint. The unique training enhances muscle endurance and flexibility and helps greatly reduce the occurrence of dreaded Handlebar Palsy for cyclists – it's effectively giving you body armour for the wrists.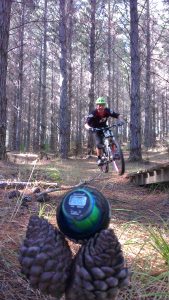 Track your Strength & Endurance Gains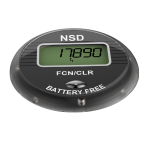 With Powerball's LCD speed meter you can track your strength and endurance gains. This will allow you to test and push yourself getting the maximum benefit from your Powerball.
Why Powerball?
Builds grip, wrist & arm strength
Improves endurance levels – Cycle longer
Treats & prevents Handle Palsy/ Cyclists Palsy
Cures & protects against RSIs
Perfect for warming up and down.
Train at work, on the go, or at home
Non-impact – Isometric resistance exercise
Physio strength exercises
Physio strength programmes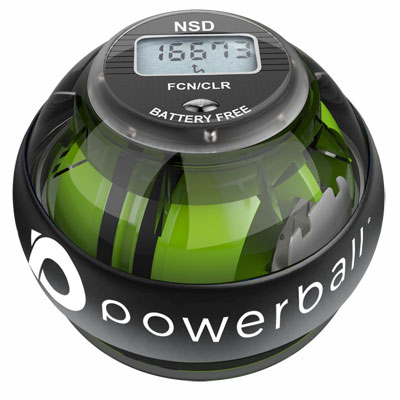 Physio Approved. Customer Tested.
Physician & sports pro approved
Easy & fun to use
1000's of five-star reviews
Over 4 million sold worldwide
Choose the powerful, handheld gyroscopic hand exerciser that's right for you.
Watch
Exercises
Practice these short, physio-designed rehabilitation and strengthening exercises.
Finger Flexors and Extensors

Wrist Flexors and Extensors
Shoulder Girdle Upper Trapezius

Powerspin – Shoulder and Shoulder Girdle
Can Powerball® help someone you know?
Email This Article to a Friend
...or

Share Us on Social Media