Golfers Elbow Treatment
Powerballs golfers elbow treatment uses soothing isometric exercise which gives instant long lasting relief to inflammation in the elbow tendons.
Our physio designed golfers elbow treatment programmes are available on this page or under the videos tab.

How Powerball rehabs and cures Golfer's Elbow?
The soothing, non-impact resistance generated by following Powerball's physio designed Golfer's-Elbow treatment programme daily, radically increases the supply of oxygen enriched blood and its collagen-rebuilding element into the inflamed tendon, helping reduce pain & stiffness. In Golfer's Elbow treatment this is critical for healing in an area where blood supply is typically poor, even in normal, healthy tissue – relief is immediate and long lasting. 
Testimonials
Powerball has received 1000's of five-star online reviews and is recommended by physicians throughout the world. See what one of our five-star reviewers that suffered from Golfer's Elbow said about Powerball at the bottom of the page.
What is Golfer's Elbow?
It is similar to the more common Tennis Elbow. Golfer's Elbow (Medial Epicondylitis) is an overuse injury affecting two major muscles controlling your wrist and fingers (flexor-pronator muscles). Both originate from a common tendon, which attaches to your medial epicondyle – that bony 'bump' on the inside of your elbow. The condition presents as pain and tenderness radiating down the forearm as a result of inflammation in strands making up the tendon.
Select
Equipment
Choose the powerful, handheld gyroscopic hand exerciser that's right for you.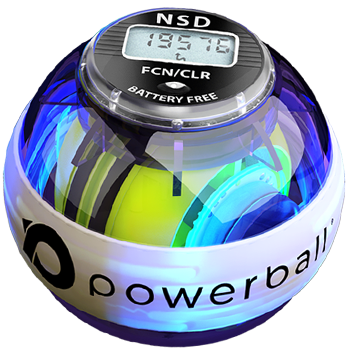 Watch
Exercises
Practice these short, physio-designed rehabilitation and strengthening exercises.