Enhanced power & strength for better Golf
In a golf swing, it's the forearms and wrists which ultimately transmit ALL the force created by the body into the club head. You can have perfect form, a powerful core and broad shoulders, but if you have weak forearms and break down at the wrists, distance and control will be severely compromised.
Wrist strength & mobility originate in the powerful forearm muscles (flexor and extensor) which are attached to the wrist and elbow joints by tendons. Powerball's non-impact resistance programme, performed daily, efficiently exercises and strengthens the flexors & extensors, keeping them strong and supple, delivering healing nutrients and oxygen via increased blood flow which, in turn, helps prevent tearing, contraction & subsequent inflammation of the muscle and tendon tissue – leading to better play.
Select
Equipment
Choose the powerful, handheld gyroscopic hand exerciser that's right for you.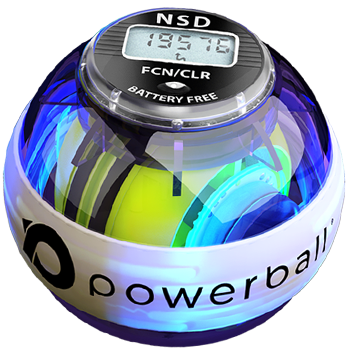 Watch
Exercises
Practice these short, physio-designed rehabilitation and strengthening exercises.