Golf Strength Training - Grip Wrist & Arm Strength
Golf strength training to give you the edge
Powerball is the perfect training tool for building huge grip, wrist and arm strength. It is ideally suited for strength training for golf. Find out why over 4 million people have benefited from Powerballs isometric exercise.
Get the most out of your swing
In a golf swing, it's the forearms and wrists which ultimately transmit ALL the force created by the body into the club head. You can have perfect form, a powerful core, and broad shoulders, but if you have weak forearms and break down at the wrists, distance and control will be severely compromised. Powerball is golf strength training with a difference allowing you to build massive grip and wrist strength.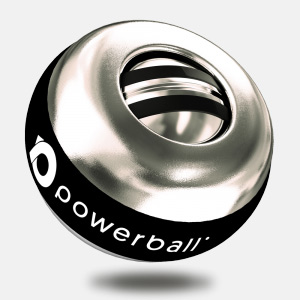 Stay healthy while building strength 
Powerball can effectively strengthen your arms from fingertips to shoulders and is supported by a range of Physio designed strength exercise videos and programmes which target each specific muscle group. Powerball is also unique in that it helps prevent conditions such as Golfer's elbow and various other repetitive strain injuries. So with Powerball you're not only building a more powerful golf swing, you're also keeping your arms and wrists healthy. It is perfect for warming up and down allowing you not to pick up any injuries.
Powerball and Golf…..
Major champion Padraig Harrington first begin using Powerball back in 1997, along with golf pro and Guinness World Record Holder for golf's longest drive, Karl Woodward, who credits Powerball for his massive distance off the tee.  Hundreds of pros and players of all levels throughout the world use Powerball to enhance their own game. Whether you want extra strength to blast the ball out of the rough or to add extra yards on your drive, Powerball is the perfect training device to help you do so and is suitable for all ages and fitness levels.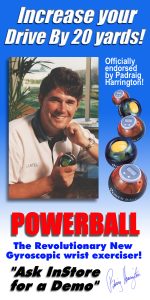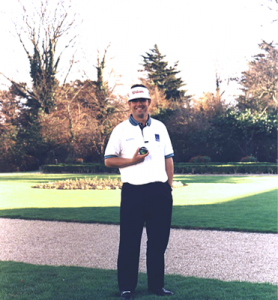 Train Anywhere even at your work desk
The handheld Powerball is the perfect training aid for on the go, at work or at home. Recently voted Independent best desk exerciser, Powerball is effective when used for as little as 3 minutes a day, helping build strength and preventing arm injuries like golfers elbow for all players.
Powerball Isometric Exercise
Powerball is the home of gyroscope exercisers. A Powerball has a rotor (green wheel below) which spins on its axis creating resistance against the user. This resistance is created by the rotor as you turn your wrists which is known as gyroscopic precision (feels like gravity working against you). The faster the rotor spins the more resistance there is against the user. A Powerball can reach up to an incredible 60+ pounds of force for strength building, however, it can be as gentle as you like for rehabilitation. This all depends on how hard you push yourself. If you want to find out more about how a Powerball gyroscope works see our blog: What is a Gyroscope?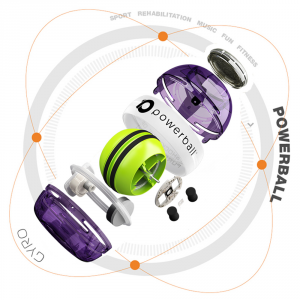 LCD Speed Meter -Track Your Strength Gains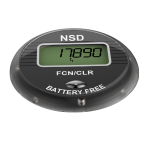 The battery free LCD meter fitted to selected Powerball models is magnetic-induction powered directly from the Powerballs spinning rotor. This allows you to track spin speed progress during your recovery period and/or monitor strength gains if using Powerball to build strength and endurance.
Why Powerball?
Build grip, wrist & arm strength
Increase driving distance
Voted best desk exerciser
Track your strength gains
Cures & protects against RSIs
Increase joint flexibility and mobility
Non-impact – Isometric resistance exercise
Physio strength/rehab exercises
Physio strength/rehab programmes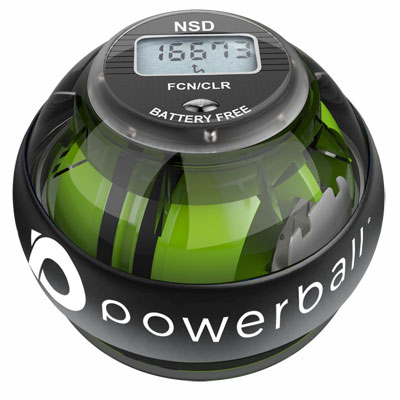 Physio Approved. Customer Tested.
Physician & sports pro approved
1000's of five-star reviews
Easy & fun to use
Over 4 million sold worldwide
Choose the powerful, handheld gyroscopic hand exerciser that's right for you.
280 Classic

Cord-Start, Drop Resistant, 18,000rpm

Autostart Pro

Auto-Start, Speed Meter, Drop Resistant, 18,000rpm

Diablo Evo Autostart

Auto-Start, Carry Case, Zinc Rotor, Stainless Steel Shell, Speed Meter, 18,000rpm+

Titan Pro

Auto-Start, Oversized Aluminum Shell, Drop Resistant, 20,000rpm
Watch
Exercises
Practice these short, physio-designed rehabilitation and strengthening exercises.
Finger Flexors and Extensors

Wrist Flexors and Extensors
Shoulder Girdle Upper Trapezius

Shoulder External Rotators

Powerspin – Arm, Elbow and Forearm

Powerspin – Shoulder and Shoulder Girdle

Powerspin – Triceps, Deltoid and Pectoralis
Can Powerball® help someone you know?
Email This Article to a Friend
...or

Share Us on Social Media