Golf Strength Training - Grip Wrist & Arm Strength
Golf Strength Training to give you the edge
In a golf swing, it's the forearms and wrists which ultimately transmit ALL the force created by the body into the club head. You can have perfect form, a powerful core and broad shoulders, but if you have weak forearms and break down at the wrists, distance and control will be severely compromised.
Strength Building
Powerball can effectively strengthen your arms from fingertips to shoulders and is supported by a range of Physio designed exercise videos and programmes which target each specific muscle group in the hands, arms and shoulders. Powerball is also unique in that it helps prevent conditions such as Golfer's elbow and various other repetitive strain injuries. So with Powerball you're not only building a more powerful golf swing, you're also building a set of healthy arms and wrists from your play.
Why Powerball and Golf?
Major champion Padraig Harrington first begin using Powerball back in 1997, along with golf pro and Guinness World Record Holder for golf's longest drive, Karl Woodward, who credits it for his massive distance – all in addition to the literally hundreds of pros and players of all levels using the splendid spheres throughout the world to enhance their own game. Whether you want extra strength to blast the ball out of the rough or to add extra yards on your drive, Powerball is the perfect isometric training device to help you do so and is suitable for all ages and fitness levels. Recently voted Independent best desk exerciser, Powerball is effective when used from as little as 3 minutes a day, helping build strength and preventing arm injuries like golfers elbow for all players.
Find out why Powerball has 1000's of online five-star reviews.
Select
Equipment
Choose the powerful, handheld gyroscopic hand exerciser that's right for you.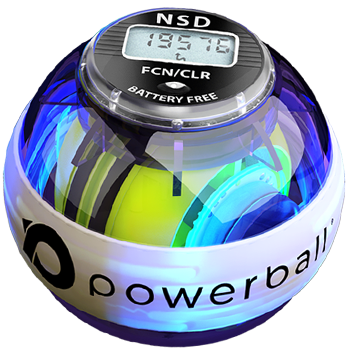 Watch
Exercises
Practice these short, physio-designed rehabilitation and strengthening exercises.