Strengthening and preventing RSI & CTS in Gaming
Video games are a pain.
In the wrists, elbows, fingers and now the shoulders too, thanks to the latest IR-motion controllers. Continued stress on ligaments, nerves and tendons in the upper limbs caused by vigorous overuse of gaming controllers, virtually guarantees a visit from tendonitis or carpal tunnel syndrome at some point in your playing career.
The resulting tingling and swelling in the fingers; fatigue & strength loss in the hands; burning pains in the wrists and elbows – most arising out of over used, inflammed tendons & fascia – can all be brought under control and/or prevented by following Powerball's non-impact resistance program daily to increase strength and flexibility of muscles and tendons in the elbows, forearms, wrists and hands and also to help warm up before play.
Select
Equipment
Choose the powerful, handheld gyroscopic hand exerciser that's right for you.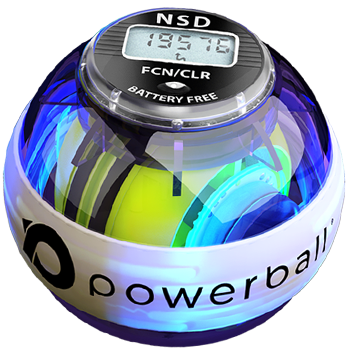 Watch
Exercises
Practice these short, physio-designed rehabilitation and strengthening exercises.