Exercises for Shoulder Bursitis - Instant Relief
Powerballs & Powerspins isometric training programme is the perfect aid for rehabilitation of shoulder bursitis.
How does Powerball Treat Shoulder Bursitis?
Following either Powerball's or Powerspin's  shoulder bursitis non-impact resistance programme daily is an ideal way to improve blood circulation into the rotator cuff. The non-impact exercise reduces inflammation and helps stabilise the shoulder joint by strengthening the surrounding muscles and tendons. Both products are also a perfect way to warm-up and lubricate the bursa region prior to any sporting activity, helping prevent possible inflammation and injury as a result. See our physio designed rehabilitation videos on this page below or in the videos section.
What is Shoulder Bursitis?
A bursa is a tiny fluid-filled sac that lubricates the joint and reduces friction, rubbing and irritation between bone, muscle & tendons during daily body movement. Shoulder Bursitis refers to painful inflammation or swelling of the subacromial bursa located around the shoulder joint brought on by repetitive movement, minor impact or from a sudden, more serious injury.
Testimonial
See what Dr. Aidan Robinson had to say about the effectiveness of Powerball and Powerspin at the bottom of the page.
Select
Equipment
Choose the powerful, handheld gyroscopic hand exerciser that's right for you.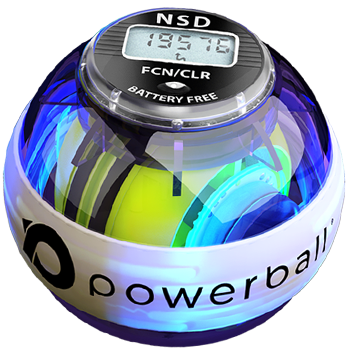 Watch
Exercises
Practice these short, physio-designed rehabilitation and strengthening exercises.