Rehabilitation & strengthening of the Elbow joint
Your elbow joint is anchor to the powerful flexor/extensor muscles in the forearm which give strength and mobility to the hands and fingers. Flex or extend your wrist and these muscles contract or stretch, putting pressure and stress on the tendons connecting them to the elbow. Repeat these movements hundreds of times daily (overuse) in the course of work or sport and those tendons quickly fatigue, bringing tearing, pain and inflammation in the surfce fascia. Scar tissue quickly develops which is notoriously resistant to blood flow; the joint feels stiff and its mobility reduces.
Powerball's non-impact resistance programme, performed daily, increases range of motion and stimulates blood circulation to deliver collagen healing nutrients, oxygen and lubrication to the tendons, reducing stiffness and helping prevent tears and inflammation.
Select
Equipment
Choose the powerful, handheld gyroscopic hand exerciser that's right for you.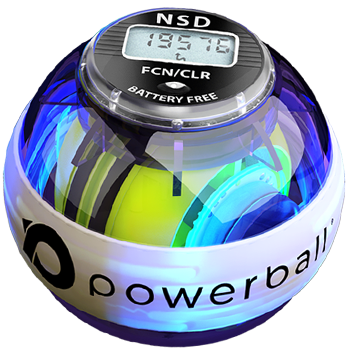 Watch
Exercises
Practice these short, physio-designed rehabilitation and strengthening exercises.