Drum Endurance & Strength Training
How Powerball helps drum endurance / play? 
Powerball is the perfect drum endurance and warm-up device that will  strengthening your arms, wrists and hands. Used and trusted by professional and amateur drummers around the world Powerball is perfect for drummers of all levels. Powerball is used for endurance training and for rehabilitation recommended by physios to aid recovery from everything from Carpal Tunnel Syndrome to wrist and arm recovery after bone breaks and fractures. The reason our products are recommended by physios is the isometric nature of  the exercise with Powerball. Isometric exercise is non-impact and aids recovery through resistance training building strength. Isometric training is also how you build endurance and this is why Powerball is trusted by many climbers to build strength endurance in their wrists and arms for climbing. If you are feeling sore during or after long drum sessions using Powerball will ease this pain then allow you to play longer pain-free.
What is a Powerball?  
It is hard to describe the feeling of Powerball in your hand unless you try it for yourself. However, the tennis ball sized Powerball is a gyroscope, which is a hollow sphere that encases an interior rotor on an axis. When the interior rotor is accelerated through turning your wrist this creates a centrifugal force that works against the user. This force increases the faster the rotor is spinning or the harder the person is working. Powerball increases muscular control and blood flow aiding rehabilitation and strengthening all the muscles which are critical to playing the drums.
Physio Exercises
Using a Powerball for as little as 3 minutes daily will improve a drummers endurance while also helping them stay healthy from fingertip to shoulder. We also have physio designed strength & endurance exercises which work all the muscle groups needed during play (see on this page below or under videos tab).  If you don't take our word for it Pearl Drummers Forums discussed some of our older products, our new generation Powerball products are even better.
Select
Equipment
Choose the powerful, handheld gyroscopic hand exerciser that's right for you.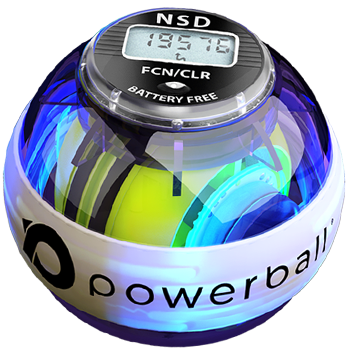 Watch
Exercises
Practice these short, physio-designed rehabilitation and strengthening exercises.