Preventing computer related RSI & CTS injuries
Regular use of a computer significantly increases risk of repetitive strain injury (RSI).
Fine, precise hand & finger movements necessary to operate mouse and keyboard, repeated thousands of times daily (overuse), causes strain and microscopic tearing of the forearm muscles powering the wrist, hands & fingers. Injured muscles contract, causing decreased range of motion and tendon inflammation at the elbow and wrist joints. Inflamed tendons may additionally compress the median nerve running through the Carpal Tunnel in the wrist, bringing severe hand pain and numbness (CTS).
Using Powerball daily will guard against/alleviate the symptoms associated with RSI from computer use. Powerball has also a physio designed non-impact resistance programme, which performed daily, efficiently stretches and exercises the forearm flexors/extensors, increasing strength/flexibility in these muscles and joints through its non-impact resistance; range of motion and blood flow increase, bringing collagen healing oxygen and nutrients to help significantly reduce inflammation.
At the bottom of this page Andrew Howe explains how Powerball cured the Carpal Tunnel syndrome he developed from computer use. Join the millions around the world that have benefited from Powerball. Perfect for use at your desk or in work, voted best desk exerciser by www.independent.co.uk.
Select
Equipment
Choose the powerful, handheld gyroscopic hand exerciser that's right for you.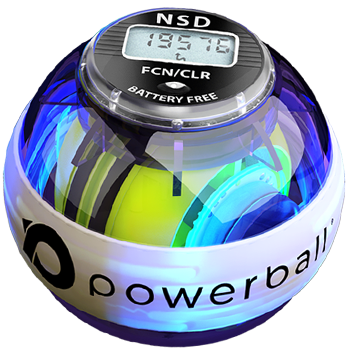 Watch
Exercises
Practice these short, physio-designed rehabilitation and strengthening exercises.