Enhanced muscular endurance levels for climbing
Powerball Increases grip strength endurance allowing climbers to to go for longer and climb harder without getting  fatigued or 'pumped'. This is achieved with Powerball through improving the aerobic capacity of the climber's forearms. As there are no muscles in the fingers, the strength it takes to support your body while hanging from a rock face originates in the forearm flexor muscles. Long, strenuous climbs involve significant isometric contractions in the forearm muscles leaving them tight and fatigued. Once forearms become pumped, the fingers uncurl and gripping ability fails, substantially increasing the risk of falling.
Using Powerball daily will give immediate and long lasting benefits for climbers of all abilities. Powerball has also a physio designed non-impact resistance programme perfect for climbers. This performed daily, helps significantly increase muscular endurance and stamina levels in the forearms, raising the fatigue threshold at which dreaded 'muscle pump' occurs and substantially increasing wrist and grip strength – you'll climb better as a consequence.
Our products have been used consistently by climbers for years. See what Brett Winks an avid climber an physiotherapist had to say about Powerball at the bottom of the page.
Select
Equipment
Choose the powerful, handheld gyroscopic hand exerciser that's right for you.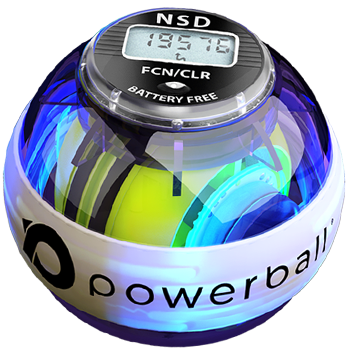 Watch
Exercises
Practice these short, physio-designed rehabilitation and strengthening exercises.