Carpal Tunnel Gaming Prevention & Rehabilitation
Pain from gaming is no fun – don't ignore it!
Carpal tunnel gaming problems & repetitive strain injuries (RSI) are no longer an issue with Powerball. Long sessions in front of the screen combined with the repetitive movements involved using a controller usually result in poor hand, finger, wrist and elbow health. Find out why using Powerball has helped over 4 million people to date and is solidly recommended by both physiotherapists and doctors – if you're a gamer then Powerball is your body armour for the upper limbs.
Carpal Tunnel Gaming or Tendonitis?
Carpal Tunnel gaming issues are becoming more and more of a problem. The repetitive movements in gaming put significant stress on ligaments, nerves and tendons in the upper limbs, bringing pain and discomfort. In fact, any overuse of a gaming controller virtually guarantees a visit from tendonitis or carpal tunnel syndrome at some point in your playing career…and that's not fun.
Common RSI symptoms from Gaming can include…
Tingling and swelling in the fingers
Fatigue & strength loss in the hands
Burning pain in the wrists and elbows – mostly arising out of overused, inflamed tendons & fascia
How Powerball soothes and relieves RSI
Powerball's isometric non-impact resistance is the perfect antidote to inflamed tendons, joints & muscles effected by RSI and helps to loosen out and strengthen all the major muscle groups in the upper limbs. Powerball increases blood flow which in turn drives healing nutrients into scarred tissue while also stimulating synovial fluid production – this lubricates joints and allows them to 'glide and slide' with ease as you wrestle that controller and kill the bad guys.
Physio Designed Rehabilitation Programmes
Choose your Powerball and simply follow the exercise programme that targets your specific condition from the videos listed below.
9 Reasons to choose Powerball;
Cures & protects against RSI
Warm up pre & cool down after gaming
Strengthens & loosens out muscles & tendons
Increases joint flexibility
Repairs scarred tendon & muscle tissue
Stimulates Blood Flow
100% non impact isometric exercise
Physio designed rehab exercises
Physio designed rehab programmes
Physio Approved. Customer Tested.
Fully approved by physios & chiropractors
Addictive and fun to use
Thousands of 5-star reviews
Over 4 million sold worldwide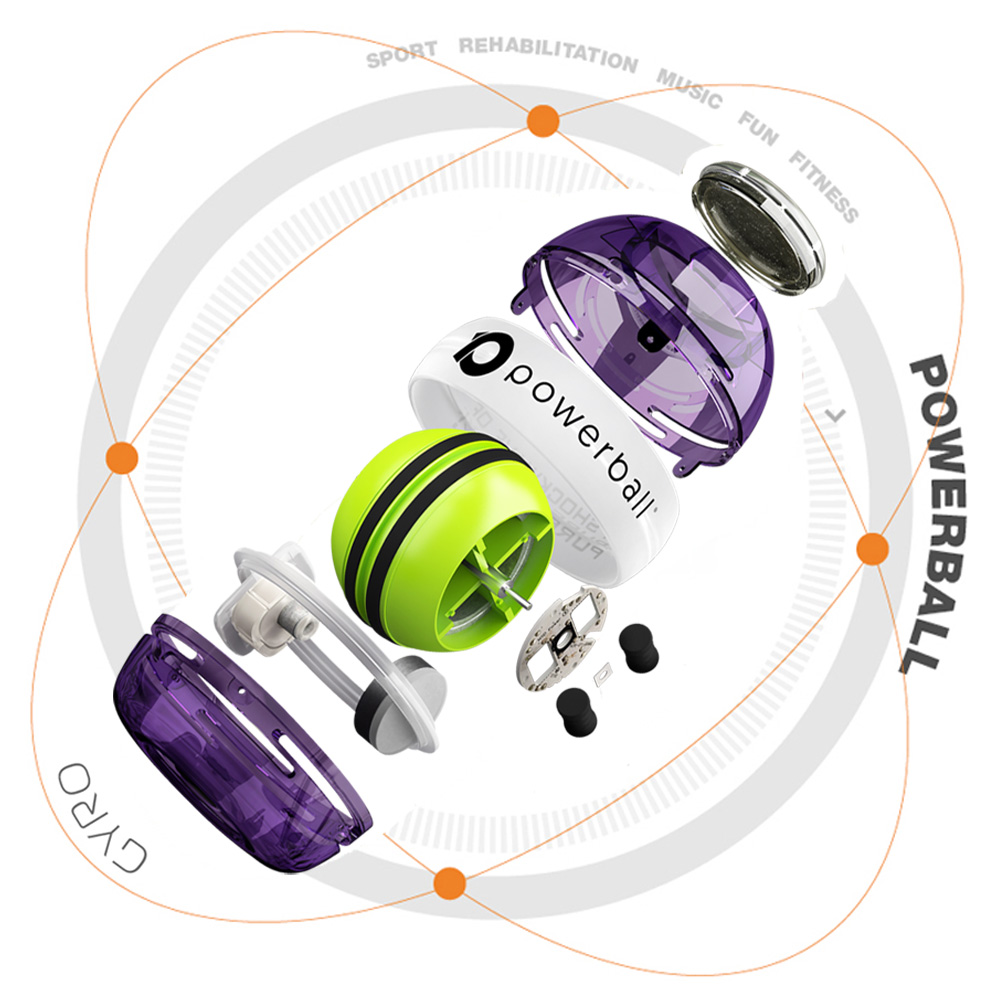 Choose the powerful, handheld gyroscopic hand exerciser that's right for you.
280 Classic

Cord-Start, Drop Resistant, 18,000rpm

280 Signature Pro

Cord-Start, White LEDs, Speed Meter, Drop Resistant, 18,000rpm

280 Autostart Classic

Auto-Start, Drop Resistant, 18,000rpm
Follow
Guidelines
Extensive, easy to follow exercise guidelines to help with your rehab and strengthening.
Week 1:
An initial workout of
3 x 30 seconds
spin sessions with a
1 minute break
between each,
repeated on alternate days.
Use your first session to establish the RPM at which you are challenged but can still maintain a solid grip on the ball.
Week 2:
3 x 30 second
spin sessions with a
1 minute break
between each,
repeated daily
.
Week 3:
3 x 60 second
spin sessions with a
1 minute break
between each,
repeated on alternate days
Week 4:
3 x 60 second
spin sessions with a
1 minute break
between each,
repeated daily
.
Remember
Initial spin speed is determined by your personal strength and fitness level as well as whether you're using the ball to rehabilitate a pre-existing injury or to help build muscle strength - always begin conservatively until you fully establish the spin speed at which your muscles are being challenged yet can still maintain a solid grip on the ball.
Progress is achieved by increasing duration and spin speed in conjunction with a regular exercise schedule. Should you experience any discomfort while exercising with Powerball® or Powerspin®, speak to your doctor or other qualified healthcare practitioner to get the best advice and support.
Watch
Exercises
Practice these short, physio-designed rehabilitation and strengthening exercises.
Finger Flexors and Extensors

Wrist Flexors and Extensors
Forearm Pronators and Supinators
Golfer's Elbow (Medial Epicondylitis) Program
Can Powerball® help someone you know?
Email This to a Friend
...or

Share Us on Social Media