Carpal Gaming & RSI's - Prevent and Rehabilitate
Gaming pain is no joke, Don't ignore it!
Gaming can cause pain in the wrists, elbows, fingers and now the shoulders too, thanks to the latest IR-motion controllers. Continued stress on ligaments, nerves and tendons in the upper limbs caused by vigorous overuse of gaming controllers, virtually guarantees a visit from tendonitis or carpal tunnel syndrome at some point in your playing career.
Gaming Pain Symptoms 
The resulting tingling and swelling in the fingers; fatigue & strength loss in the hands; burning pains in the wrists and elbows – most arising out of overused, inflamed tendons & fascia – can all be brought under control and/or prevented by using Powerball for a couple of minutes daily. Powerball has also a physio designed non-impact resistance program that can be used daily to warm up before play and increase strength and flexibility of muscles and tendons in the elbows, forearms, wrists and hands.
What is a Powerball
The tennis ball sized Powerball gyroscope, is a hollow sphere which encases an interior rotor on an axis. When the interior rotor is accelerated through turning your wrist this creates a centrifugal force that works against the user. This force increases the faster the rotor is spinning/the harder the person is working. A Powerball rotor can spin upwards of 17,000RPM or 283 times per second similar to an engine of a racing car that you can hold in your hand. Powerball increases muscular control and blood flow aiding rehabilitation and increasing strength and endurance throughout the upper limbs.
Powerball aids rehabilitation (At slower spin speeds), builds endurance, and guards against pain like no other product on the planet. With 1000's of 5-star reviews worldwide see what some of our customers have said about Powerball at the bottom of the page.
Select
Equipment
Choose the powerful, handheld gyroscopic hand exerciser that's right for you.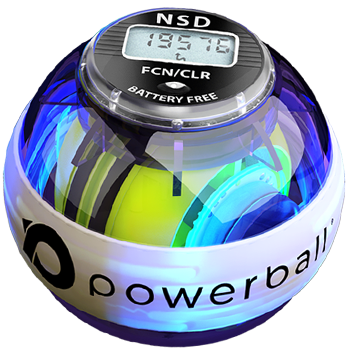 Watch
Exercises
Practice these short, physio-designed rehabilitation and strengthening exercises.