Preventing Arts & Crafts based RSI
Why RSI's from Arts & Crafts?
RSI (repetitive strain injury) is the curse of knitters, sculptors, painters, artists and gardeners throughout the world. It can usually be traced to surface knots (myofascial trigger points) and micro tears on the forearm flexor/extensor muscles as a result of awkward limb posture, overloading or bending of the wrist and/or overuse of the hands & fingers. The injured muscles contract over time and stretch the connecting tendons, resulting in localised pain, inflammation, stiffness, tingling or numbness in the elbows, wrists or fingers.
How Powerball cures RSI's 
Using your Powerball daily aides and prevents RSI like no other product on the planet. We also have a physio designed non-impact resistance programme for rehabilitation and pain prevention. When performed daily it efficiently stretches out and exercises the forearm flexors/extensors, increasing strength and flexibility in the muscles, joints & fascia through non-impact resistance; Powerball also warms up the limbs to enhance range of motion, helping significantly reduce inflammation via increased blood flow.
Customers have been using Powerball to treat RSI for decades and we have received thousands of online 5 star reviews.  See what some of our customers had to say about Powerball at the bottom of the page.
Select
Equipment
Choose the powerful, handheld gyroscopic hand exerciser that's right for you.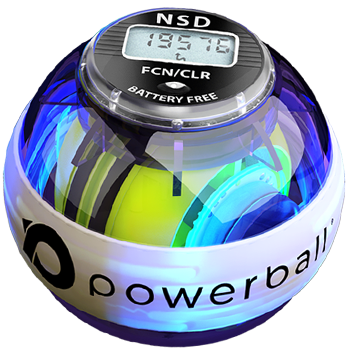 Watch
Exercises
Practice these short, physio-designed rehabilitation and strengthening exercises.